Modi to kickstart campaign for Telangana Assembly polls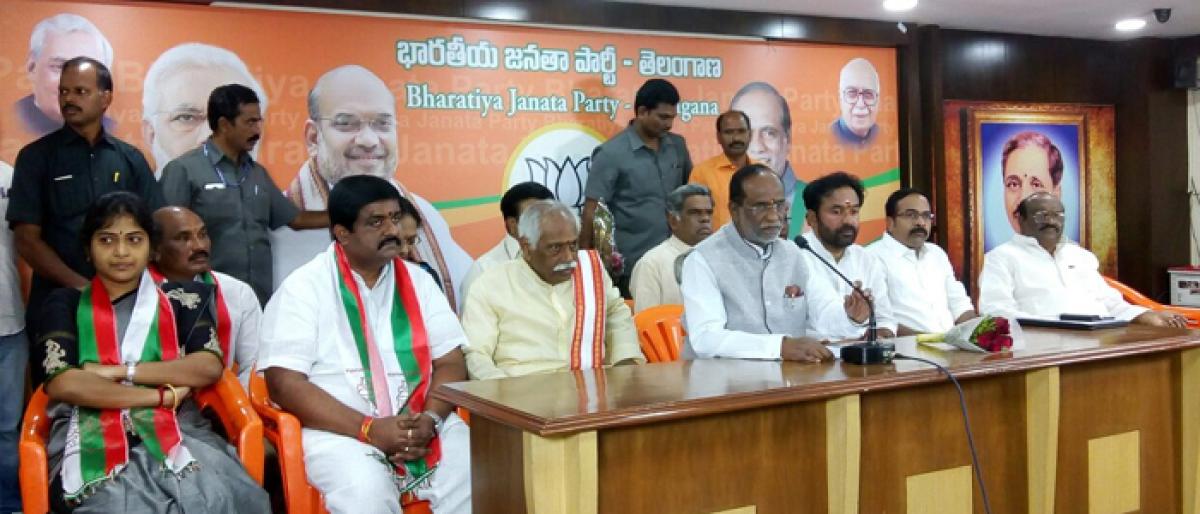 Highlights
Telangana BJP State president Dr K Laxman said that the Prime Minister Narendra Modis election campaign for the State Assembly elections this month will bring a sea of change in the political scene in the State
​Hyderabad: Telangana BJP State president Dr K Laxman said that the Prime Minister Narendra Modi's election campaign for the State Assembly elections this month will bring a sea of change in the political scene in the State.
Addressing the media while announcing the party joining hands with the Yuva Telangana Party (YTP) here on Thursday, he said the public meetings of Modi's election campaign in Telangana will start in November, and "he will be addressing three to four public meetings". The party hopes Modi's campaign will tilt the scales of the ongoing campaign in its favour to usher its leaders and cadre to be more proactive in bringing the party to power in Telangana.
He said that the several community organisations, small parties from SC, ST, BC, Minorities, youth, women were supporting the party's nationalist, development and welfare agenda. Further, they were coming forward to working with BJP and also contest along with it in the ensuing Assembly elections.
As part of this, the party is forging alliance with the YTP, as it had expressed its willingness to work with the party as BJP was giving top priority to women and youth in its activities.
Former BJP MLA G Kishan Reddy said that Telangana was heading towards a triangular fight in the forthcoming Assembly elections. The alliances of family-based parties of Congress-TDP and TRS-AIMIM are on onside to keep their power intact for their betterment and on the other, the BJP with a nationalist outlook has been working to deliver the fruits of development and welfare to everyone. He asked people to vote for BJP to defeat the family-based parties and serve the interests of people of the State.
BJP MP Bandaru Dattatreya said the that only a few individuals belonging to that party were contesting the ensuing Assembly elections. YTP leader Ditta Balakrishna Reddy said that his party wanted to join hands with BJP as it was not only giving priority to the youth and women, but also working with a nationalistic ideology, development and welfare.
Another YTP leader Rani Rudrama Devi lashed out at the Telugu Desam and TRS for spending the money mopped up by fleecing the people of their respective States where they were in power to get their candidates elected in Telangana in the ensuing Assembly elections.