Kuna Srisailam Goud campaign in full swing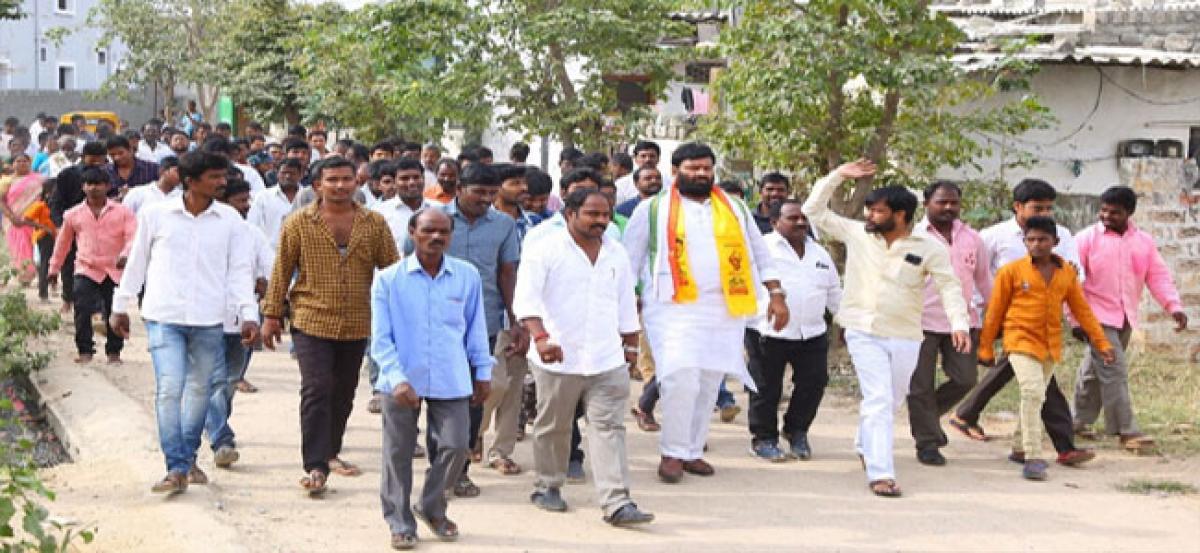 Highlights
Maha Kutami candidate Kuna Srisailam Goud on Sunday stepped up his campaigning in the Gajularamaram area of Quthbullapur constituency by taking up a padayatra
Quthbullapur: Maha Kutami candidate Kuna Srisailam Goud on Sunday stepped up his campaigning in the Gajularamaram area of Quthbullapur constituency by taking up a 'padayatra'. During the rally he received and welcomed the activists from TRS and YSRCP of Bowrampet into the Congress. While campaigning in Pastornagar, Goud boarded an RTC bus and appealed to passengers to vote for the Congress party in the December 7 polling. He assured them to take steps for solving the area's traffic problems.
He attended 'Vanabhojanam' programme organised by the Shetty Balijas and 26 other castes under the auspices of Quthbullapur Shetty Balija Yuvajana Sangham. Goud, while addressing the participants, called for efforts to oppose deletion allegedly by the TRS leaders of 26 castes from the BC list. He assured that the castes would be included in the list if the Kutami was voted to power. Among those who joined the Congress Party under the leadership of Gangaram of Balayyanagar were Premkumar, Venkat, Mallesh, R Raju, Naresh, Nagaraju, Balu, Gopi and Shyam. The leaders of TRS and YSRCP who switched loyalties were Upasarpanch Middela Mudireddy Narsa Reddy, Bal Reddy, T Bal Reddy, Manne Kumar, Prabhakar and Raju.
During the day pastors conducted special prayers for the victory of Goud. Former TDP Councilor Rajita Ratnam extended support to the Praja Kutami candidate while assuring to work for his success with a big majority. Abburi Sekhar and Nayudu of TDP of Prashant Hills donated Rs.10,116 to be utilised by Goud for filing his nomination. Among those present included Chanu, Harikrishna, Ravi, Dilip, besides Upasarpanch Yenugula Srinivas Reddy.