MP Kavitha launches organ donation camp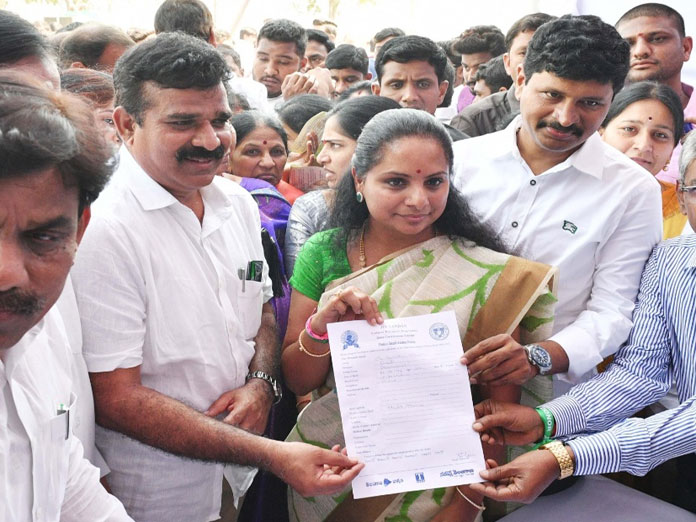 Highlights
Nizamabad MP K Kavitha said that Chief Minister K Chandrashekar Rao was a great leader, who has heart to solve problems of the poor The Nizamabad MP launched Jeevan Daan organ donation camp taken up by Telangana Jagruti on the occasion of Chief Minister K Chandrashekar Raos birthday
Hyderabad: Nizamabad MP K Kavitha said that Chief Minister K Chandrashekar Rao was a great leader, who has heart to solve problems of the poor. The Nizamabad MP launched Jeevan Daan (organ donation camp) taken up by Telangana Jagruti on the occasion of Chief Minister K Chandrashekar Rao's birthday.
Kavitha who launched the programme along with MP Joginapally Santosh Kumar had also pledged to donate organs. The Jeevan Dan programme was held in all 31 districts of Telangana. The Motto of the programme is to create awareness among the people about organ donation. Under this programme, 50,000 donors are to be enrolled in this one year campaign.
Telangana Jagruti Health wing in-charge Preethi Reddy said "One person donating organs can save eight lives. Despite so much of advancements in science, organs cannot be created and can only be donated from another human. There is dearth of organs and thousands of children and adults were dying due to lack of organs. Not everybody is fortunate to get donors in relations," said Preethi Reddy.
The leaders and the crowd maintained a two-minute silence as a mark of respect towards the martyrs of Pulwama terrorist attack. "Ease of process and awareness among public is important that organ donation can save someone's life," said Telangana Jagruthi vice president Rajeev Sagar. Former Minister T Srinivas Yadav, Musheerabad MLA Mutha Gopal. Andhol MLA Kranthi Kiran, and others participated in the programme.