ALL ABOUT COLORECTAL CANCER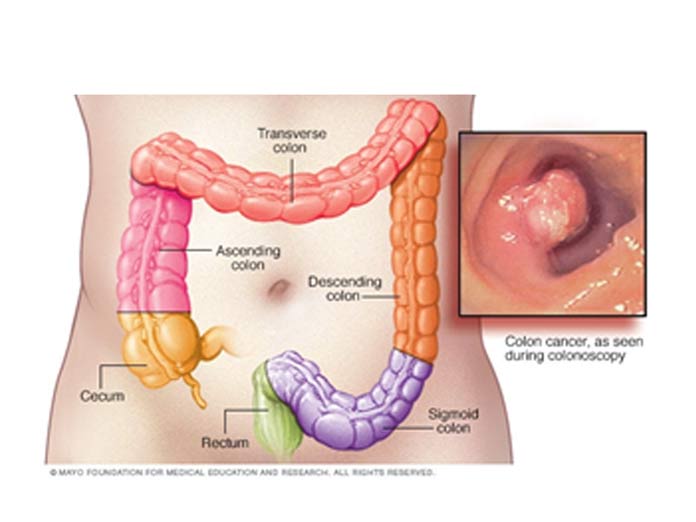 Highlights
In India, the annual incidence rates AARs for colon cancer and rectal cancer in men are 44 and 41 per 100000, respectively The AAR for colon cancer in women is 39 per 100000 Colon cancer ranks 8th and rectal cancer ranks 9th among men For women, rectal cancer does not figure in the top 10 cancers, whereas colon cancer ranks 9th Risk factors
How common is colorectal cancer in India
In India, the annual incidence rates (AARs) for colon cancer and rectal cancer in men are 4.4 and 4.1 per 100000, respectively. The AAR for colon cancer in women is 3.9 per 100000. Colon cancer ranks 8th and rectal cancer ranks 9th among men. For women, rectal cancer does not figure in the top 10 cancers, whereas colon cancer ranks 9th Risk factors
Factors that may increase its risk

Older age. More than 50yrs age are more susceptible.
A personal history of colorectal cancer or polyps. If you've already had colon cancer or adenomatous polyps, you have a greater risk of colon cancer in the future.
Inflammatory intestinal conditions. Chronic inflammatory diseases of the colon, such as ulcerative colitis and Crohn's disease, can increase your risk of colon cancer.
Inherited syndromes that increase colon cancer risk. Such as familial adenomatous polyposis and hereditary nonpolyposis colorectal cancer.
Family history of colon cancer. You're more likely to develop colon cancer if you have a parent, sibling or child with the disease. If more than one family member has colon cancer or rectal cancer, your risk is even greater.
Low-fiber, high-fat diet. Colon cancer and rectal cancer may be associated with a diet low in fiber and high in fat and calories. And foods high in red meat and processed meat.
A sedentary lifestyle. If you're inactive, you're more likely to develop colon cancer.
People with diabetes and insulin resistance have an increased risk of colon cancer.
People who are obese have an increased risk of colon cancer and an increased risk of dying of colon cancer when compared with people considered normal weight.
People who smoke may have an increased risk of colon cancer.
Heavy use of alcohol increases your risk of colon cancer.
Radiation therapy directed at the abdomen to treat previous cancers increases the risk of colon and rectal cancer.

Signs and simtoms
Signs and symptoms of colon cancer tend not to be specific. In other words, the signs and symptoms can occur due to a number of different conditions. When colon cancer is detected in its early stages, it may not have symptoms. Symptoms can also vary according to the specific location within the colon where the tumor is located:
Rectal bleeding or blood in the stool,
Dark-colored stool,
Change in bowel habits,
Change in stool consistency,
Constipation,
Diarrhea,
Narrow stools.
Inherited colon cancer syndromes
Hereditary nonpolyposis colorectal cancer (HNPCC), also called Lynch syndrome, increases the risk of colon cancer and other cancers. People with HNPCC tend to develop colon cancer before age 50.
Familial adenomatous polyposis (FAP). FAP is a rare disorder that causes you to develop thousands of polyps in the lining of your colon and rectum. People with untreated FAP have a greatly increased risk of developing colon cancer before age 40. FAP, HNPCC and other, rarer inherited colon cancer syndromes can be detected through genetic testing.
Stages of colorectal cancer patients
Based on the CT scan, post-surgery report patient divided into 4 stages

Stage I: The cancer has grown through the superficial lining (mucosa) of the colon or rectum but hasn't spread beyond the colon wall or rectum.
Stage II: The cancer has grown into or through the wall of the colon or rectum but hasn't spread to nearby lymph nodes.
Stage III: The cancer has invaded nearby lymph nodes but isn't affecting other parts of your body yet.
Stage IV: The cancer has spread to distant sites, such as other organs — for instance, to your liver or lung.
Treatment options are: Surgery, chemotherapy, and radiotherapy
Latest treatments

Based on molecular test, targeted therapies can be selected: Bevacizumab (Avastin); Cetuximab (Erbitux); Panitumumab (Vectibix); Ramucirumab (Cyramza); Regorafenib (Stivarga); and Ziv-aflibercept (Zaltrap)
Is immunotherapy useful?
Some patients with advanced colon cancer have a chance to benefit from ismmunotherapy with antibodies such as pembrolizumab (Keytruda) and nivolumab (Opdivo after doing MSI test.
(Writer is Consultant Medical Oncologist, KIMS Hospitals, Secunderabad)