Funds sought for baby's treatment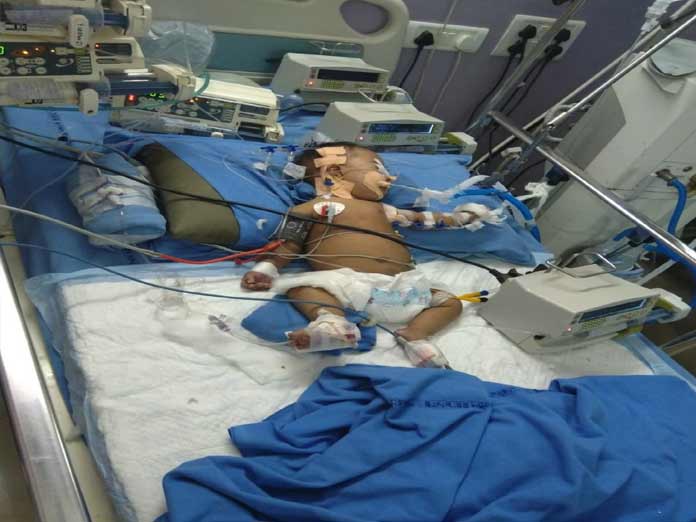 Highlights
Team NGOs, an umbrella voluntary organisation, on Tuesday made an appeal to the public to financially support a family of 4month old boy fighting for his life Yaser Malik, a resident of Tolichowki has been fighting congenital heart disease and lungs disorder breathing problem and he is on ventilator
Hyderabad: Team NGOs, an umbrella voluntary organisation, on Tuesday made an appeal to the public to financially support a family of 4-month-old boy fighting for his life. Yaser Malik, a resident of Tolichowki has been fighting congenital heart disease and lungs disorder (breathing problem) and he is on ventilator.
According to Team NGOs Telangana convenor, Mohammed Faheem, father of the baby, Shakeel-ur-Rahman has already spent huge amounts in this direction and there isa requirement of Rs 10 lakh approximately for the treatment. "He is currently undergoing treatment at Sunrise Hospital Kacheguda, Hyderabad. He has been suffering for one month and it has been a tough time for the family. Intensive care (ICU) is his only hope of getting better and living a normal life. His treatment will cost approximately Rs 10 lakh," said Faheem.

"We are unable to pay for the treatment. The funds raised will be used towards his Doctor's Consultation Charges, Hospital Bills, Medicines. All of us are eagerly awaiting his recovery," said baby's father Shakeel.
"I request you to kindly contribute towards his treatment and help during our time of need. Each contribution is important! Kindly also share the fundraiser with your family and friends and help me reach the goal amount. We are grateful for your help," he added.
Those who can help can support the ailing baby may donate to the following account. Mohd FarhathHussain, SBI A/C no 20066854072, IFS CODE: SBIN 0011744, Branch: Mehdipatnam, Hyderabad, Telangana.