Hyderabad: Kavitha's absence raises many questions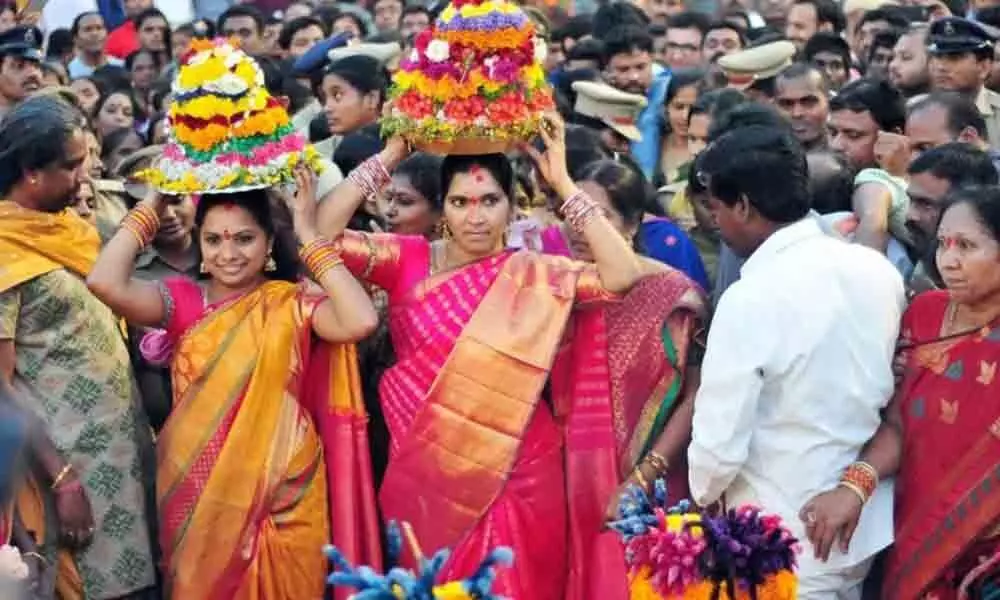 Highlights
1. The former MP has kept the festival a low key affair this year.
2. She was instrumental in getting the women folks to take part in Telangana agitation through the floral festival.
3. Not only her followers, everyone is wondering about the absence of Kavitha in the major Bathukamma events this year
Hyderabad: Where is Kavitha? ask her followers as the TRS leader was not seen during the State-wide Bathukamma celebrations in the last four days except for celebrating at her residence.

The TRS leader Kalvakuntla Kavitha has played a crucial role in cultural renaissance of Telangana in the form of Bathukamma celebrations. She was instrumental in getting along the women folks to take part in Telangana agitation through Bathukamma. However, the former Nizamabad MP has kept the festival a lowkey affair this year. Kavitha was not seen in the major Bathukamma events in the State this year except for celebrating with family and releasing a poster regarding the festival on behalf of Telangana Jagruthi, which is also led by her.
The absence of Kavitha at major Bathukamma events has led the party leaders and her followers to wonder where she was. "Kavitha akka has been the reason for the Bathukamma celebrations on a large scale in Telangana but this year we have not seen her. We wish she will be part of the mass events in the coming days," said K Surekha a follower of the TRS leader. Not only the leaders but also the media especially electronic media has been running around enquiring whether Kavitha would visit any event.
Meanwhile, the Ministers and TRS leaders have appreciated the efforts of Telangana Jagruthi for the key role played by it in taking the festival at international level. IT Minister KT Rama Rao appreciated Kavitha for her efforts in bringing worldwide fame for State festival of Telangana, Bathukamma.
Rama Rao mentioned that when the earlier government had imposed a ban on celebrating Bathukamma at Tank Bund, it was Telangana Jagruthi which appealed to the High Court and brought orders to celebrate Bathukamma.
He also stated that Telangana Jagruthi played a significant role during the Telangana movement.
Other Ministers including P Ajay Kumar, K Eshwar, and Government Whip G Sunitha also appreciated the role played by the Jagruthi. Minister Ajay Kumar said that government would make the celebrations victorious. "If the Bathukamma is celebrated in various countries in the world today, it is because of Kalvakuntla Kavitha's efforts," said Sunitha.