KCR never promised merger of RTC into government: Minister Satyavathi Rathode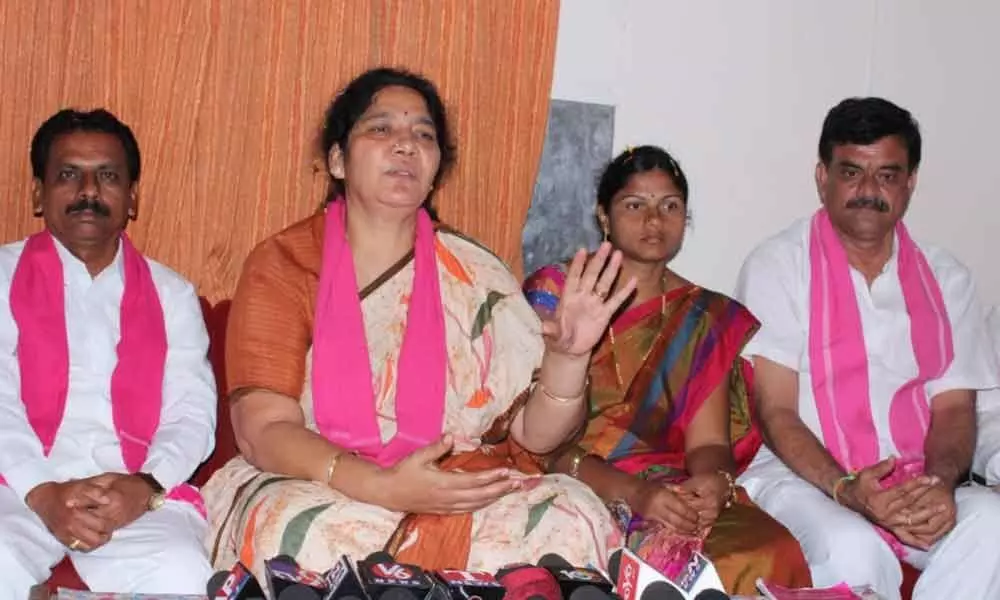 Highlights
She blames RTC JAC leaders for losses made by the corporation. Reminds them of the 44 % fitment given by the State government.
Both Cong and BJP have joined hands to defeat TRS in Huzurnagar byelection but TRS will win, says Energy Minister Jagadish Reddy.
Huzurnagar / Suryapet: Minister for Tribal Welfare, Satyavathi Rathode stated that Chief Minister K Chandrashekar Rao never promised merger of RTC with the government.

The Minister along with Devarkonda MLA Ramavath Ravindra Kumar and Illandhu MLA Haripriya addressed the media persons at Mattampally of Huzurnagar constituency.
She recalled that Chief Minister respecting the RTC workers had given 44 percent fitment to them when they asked for only for 25 percent fitment.
She said CM KCR informed RTC employees several times that he would take several long-term measures to strengthen the RTC in all aspects.
She held RTC union leaders responsible for annual losses of Rs 1,500 crore per year of the corporation.
Own buses run by RTC are getting loss of Rs 12.75 per km, where as hired RTC buses getting loss of 75 paisa per km, she explained.
She informed that CM KCR never told about the privatisation of the RTC.
She questioned the BJP and Congress leaders about the merging of RTC in the government in their ruled States.
She slammed the Opposition parties over their double standards when ruling and when in opposition.
She said cent percent buses are plying on roads within three days in the interest of people of the State.
Meanwhile, Minister for Energy G Jagadish Reddy during his interaction with media in Suryapet town informed that putting ethics aside, ideological rivals Congress and BJP are joining hands to defeat TRS in the Huzurnagar bypoll.
He added that both Congress and BJP raised the curtains of conspiracy against TRS as CM KCR image is spreading across the country with his innovative welfare and development activities being implemented in the State.
Stating that as per the party internal surveys TRS alone is going to get 50 percent votes, he exuded confidence that party MLA nominee Saidi Reddy will win the election with a huge majority as he has been staying along with people even after his defeat in Huzurnagar constituency in 2018 Assembly elections.
Subscribed Failed...
Subscribed Successfully...