Kakinada: Covid vaccine to be distributed to health workers in first phase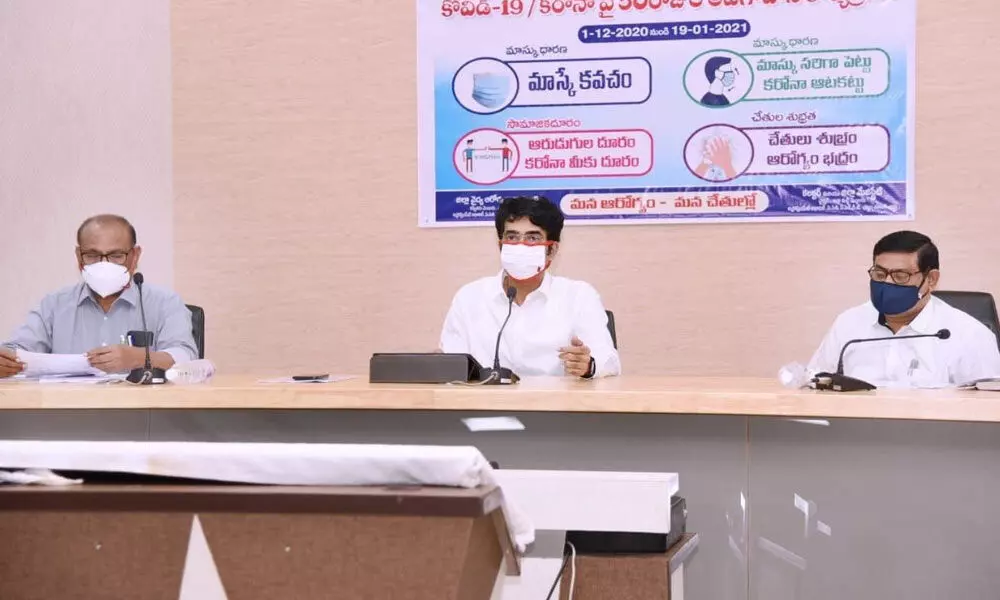 Highlights
Collector says arrangements have been made to distribute Covid vaccine to 35,000 medical and health workers in EG district
Urges people not to worry as the vaccine is proven to be completely safe in tests
Kakinada: District Collector D Muralidhar Reddy said that necessary arrangements have been made to distribute the Covid-19 vaccine to about 35,000 medical and health workers in the district in the first phase as per the standard operating guidelines issued by the Central government.
He disclosed measures taken for the distribution of coronavirus vaccine at Collectorate here on Wednesday. He said that the district administration was ready to distribute the vaccine, which has been declared safe by the central government after successful completion of clinical trials.
He said that the government had suggested distributing the vaccine to medical and health workers and frontline warriors in the district. He said that the vaccine will be given in the first phase to the medical and health workers in government and private companies. A special task force has been set up at the district level with the district immunisation officer as the convener, chaired by the district collector to monitor the vaccine distribution. The task force will meet every Monday to review the preparations for the distribution of the vaccine and the coordination of various departments.
The Collector said that the vaccine has proven to be completely safe in tests and people should not have any myths or doubts about it. The vaccine will be distributed only through government health departments, strictly in compliance with the standards set by the government, from the point of manufacture to the point of distribution. He said that private persons and companies were not allowed to distribute the vaccine. The task force would take legal action if anyone was found guilty of spreading rumours and misinformation about the vaccine with malice.
The Collector said that they have been conducting awareness programmes for 50 days from December 1 to January 19.