Vizianagaram: 2.76L mosquito nets to be distributed for tribals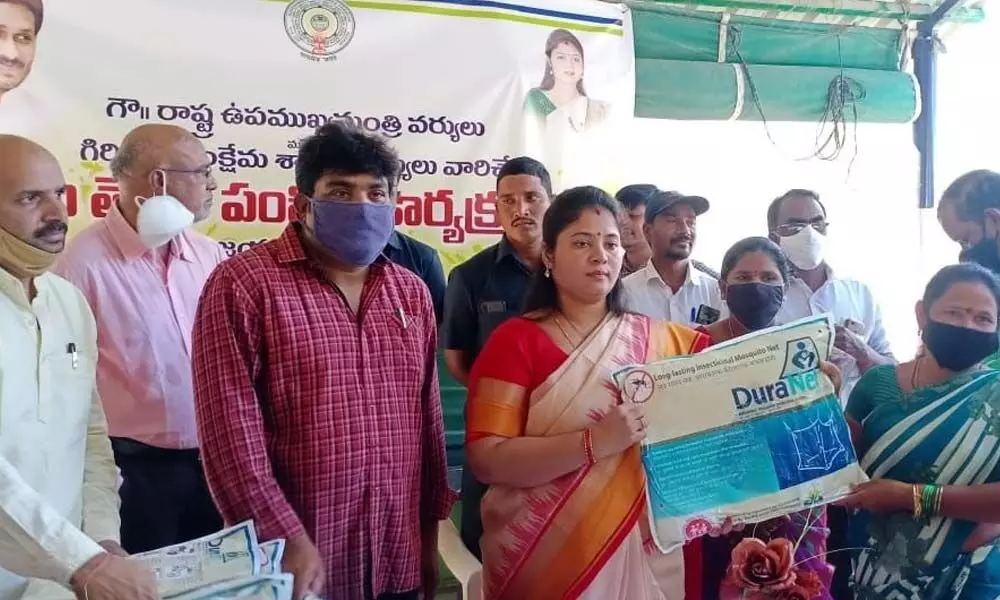 Highlights
Dy CM Pushpasreevani calls on people in forest and remote areas to avail services of medical staff to prevent spread of mosquitoes
Says fine rice will be distributed at the doorsteps of people from Jan 1
China Merangi(Vizianagaram): Deputy Chief Minister P Pushpasreevaani said the government distributing 2.76 lakh mosquito nets tribals in forest and hilly areas to protect them from vector-borne diseases like malaria and dengue in winter and monsoon seasons.
She distributed nets to people at Chinamerangi village of Jiyammavalasa mandal in the district on Friday. Expressing displeasure over obstruction by some people anti-larval operations to prevent rise in mosquito population, she said it was not good for the well-being of the tribal people. She said medical staff should be invited to the remote areas and their services should be availed to eradicate mosquito menace. She also instructed the medical staff to create awareness among the public on spraying of mosquito repellent.
Later, participating in another programme, Pushpasreevani said fine rice would be supplied to BPL families from January 1 at their doorsteps. "The government is taking all steps to supply fine rice to every white card holder. The people are not consuming the rice supplied under Public Distribution System (PDS) as they were not fine. They are selling it to millers for recycling. The same rice is appearing in market in the name of fine rice. Now the people need not worry about the quality of rice and they can consume them," she said.
Some leaders from other parties joined YSRCP in the presence of Pushpasreevani and her husband Pareekshit Raju.