Stage set for first phase of vaccine drive in Tirupati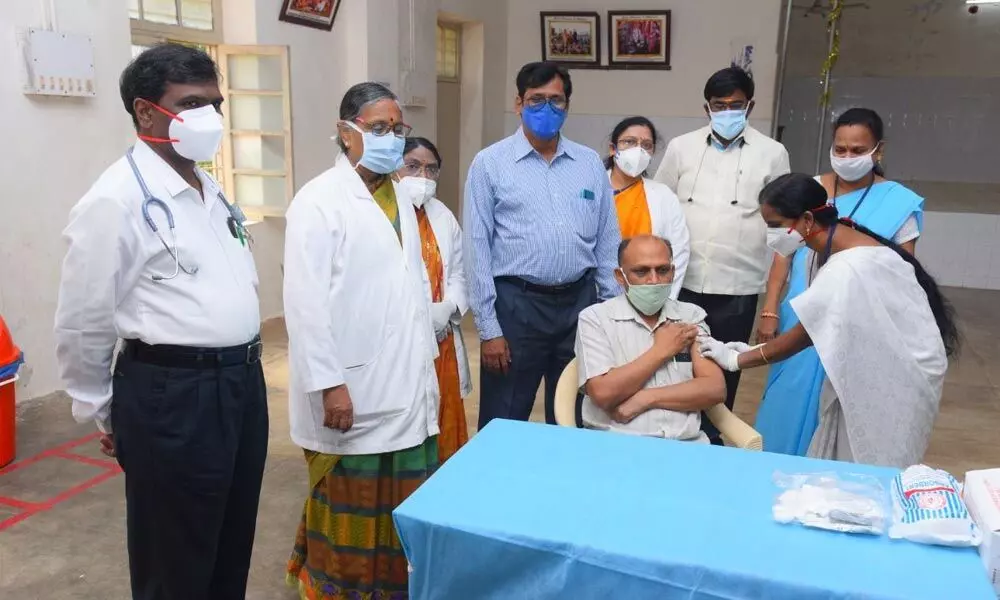 Highlights
The second dry run held at all 145 centres in the district where health workers got vaccinated
Ruia Hospital Superintendent Dr T Bharathi says the dry run helped all the teams to become well-versed with the procedures
Tirupati/Chittoor: Everything went on well in the second dry run of Covid vaccination held in the district on Friday. As it is widely expected that the real vaccination drive will commence before next 10 days, this dry run helped the officials and all the teams to be involved in the process to prepare for the task in a foolproof manner.
Following the Central government's guidelines, the second dry run was held at all the 145 vaccination centres across the district. At each place 10 health workers whose names were enrolled already for the vaccination are chosen for the rehearsals. Duly following all the prescribed procedure right from checking their ID proof at the entrance and in the online portal, these people were given the dummy vaccine.
In view of the complexities involved in the process as it is different from the routine immunisation programmes, the exercise paved the way for all vaccinating officers and other staff to understand their duties and the dos and don'ts well, The officials expressed hope that this will make the real vaccination process smooth and hassle-free.
At a vaccination centre set up at Ruia Hospital, Superintendent Dr T Bharathi, Medical college Principal Dr C Jaya Bhaskar, District Immunisation Officer (DIO) Dr C Hanumantha Rao, Covid-19 nodal officer Dr S Subba Rao, Hospital working committee chairman B Chandra Sekhar and others took part to oversee the procedure.
Speaking on the occasion, Dr Bharathi said the dry run was intended to bring awareness to both vaccinators on how to vaccinate and the beneficiaries on its importance and the precautions to be taken. Covid-19 help desk will be there through which people can utilise whenever they need it. Doctors and other staff are always available to take care of the patients.
Chittoor government hospital Superintendent Dr Arun Kumar supervised the dry run programme held at the facility. Hospital RMO Dr Sandhya said all arrangements were in place for the vaccination. Emergency medicines and doctors will be available at the observation room to meet any exigencies. Covid Nodal officer Dr Mahesh, Dr Madhavi Latha, Dr Madhu, Dr Ramgopal and others took part in the programme.