Religious fervour marks Ananta Padmanabha Vratam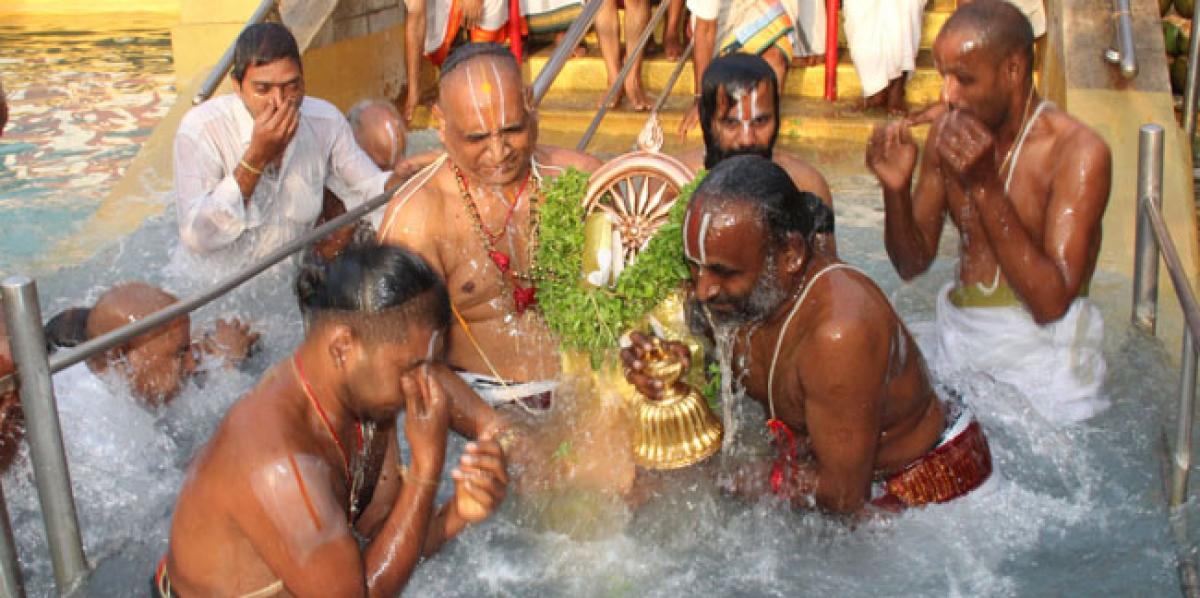 Highlights
The devotees have cherished yet another auspicious Chakra Snanam within 48 hours of Brahmotsava Chakra Snanam on Sunday following one of the important annual festivals Sri Ananta Padmanabha Vratam which was observed with religious fervour in the hill town of Tirumala
Tirumala: The devotees have cherished yet another auspicious Chakra Snanam within 48 hours of Brahmotsava Chakra Snanam on Sunday following one of the important annual festivals Sri Ananta Padmanabha Vratam which was observed with religious fervour in the hill town of Tirumala.
According to temple scriptures, Lord Venkateswara is believed to be an incarnation of Lord Sri Maha Vishnu. As Ananta Padmanabha Swamy, yet another form of Lord is being described as 'Sayanarupa' - in a state of reclining on Ananta-the 1000-hood mighty serpent king Adisesha, the festival is observed in grandeur in all Sri Vaishnava Kshetras across the country every year.
The image of Ananta Padmanabha Swamy is also located inside the main temple complex where the pilgrims can see Lord in reclining pose. As Tirumala temple tops the list of Sri Vaishnava Divya Desams, the festival is observed on Bhadrapada Sukla Chaturdasi day every year at Tirumala.
Meanwhile, the Chakra Snanam is performed four times in a year usually during Brahmotsavams, Rathasapthami, Vaikunta Dwadasi and Ananta Padmanabha Vratam. Temple DyEO Haridranath, Peishkar Ramesh and others took part.