IMA meet deliberates on various medical issues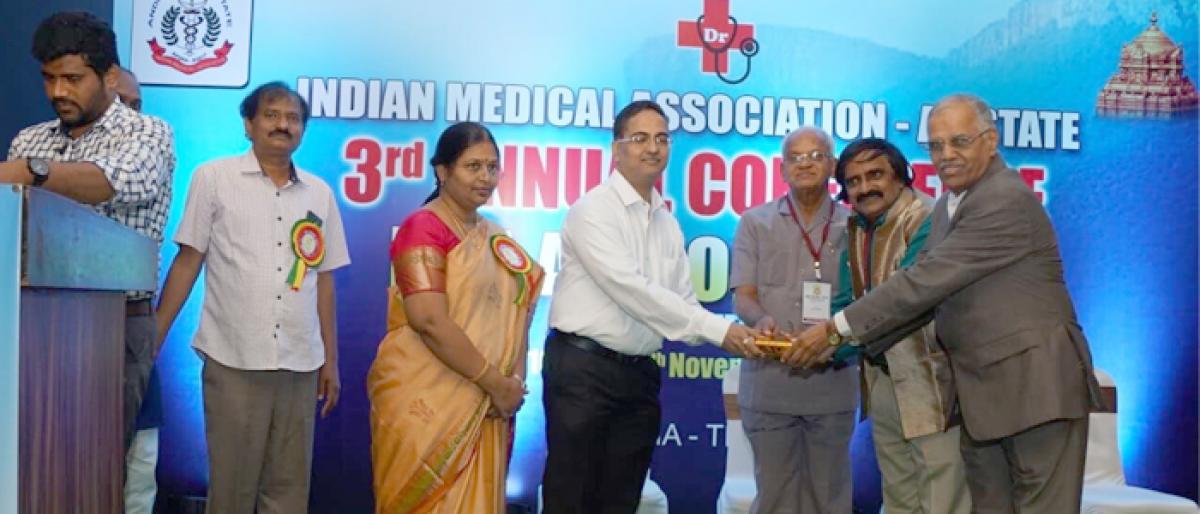 Highlights
With a view to update scientific knowledge and discuss various professional issues, the conference of the Indian Medical Association IMA, AP branch has begun in Tirupati on Saturday The two day conference IMA APCON 2018 was the third in the State after bifurcation
The third annual conference of the State unit 'IMA APCON 2018' begins in Tirupati
About 800 delegates are attending the two-day conference
Dr D Sreehari Rao takes over as IMA AP chief
Tirupati: With a view to update scientific knowledge and discuss various professional issues, the conference of the Indian Medical Association (IMA), AP branch has begun in Tirupati on Saturday. The two-day conference 'IMA APCON 2018' was the third in the State after bifurcation.
About 800 delegates were attending from across the State which they feel extremely useful in their professional pursuit. On this occasion, Dr Daggumati Sreehari Rao of Tirupati took over as President of IMA AP State along with his team of office bearers for the year 2018-19.
IMA attains importance as it represents every doctor with a minimum qualification of MBBS and to super specialities. It has about three lakh members all over India and having branches in every state.
With almost 1,000 life memberships, Tirupati tops the list of all branches in AP. Scientific discussions and lectures on various topics occupied the centre stage of proceedings in which several eminent doctors from Tirupati and other places took active part.
The speakers presented various advance developments in the medical and surgical procedures and issues involved in them which were academically more beneficial to young doctors and those practicing at rural areas.
The topics for scientific lectures were meticulously planned to cover whole gamut of subjects in the medical field. As the diabetes causing more and more concern in the society, several aspects of the problem such as 'Approach to Fevers in Diabetic Patients,' 'Conquering Obesity and Diabetes with Bariatric and Metabolic Surgery,' and 'Digital Diabetology,' were dealt by senior doctors.
Similarly, other topics include 'Multidisciplinary approach to Polytrauma,' 'Tele Cardiology,' 'Cancer diagnosis and Treatment–General Practitioner's role,' 'Rehabilitation of persons with spinal cord injury,' and others.
Talking to The Hans India on the occasion, the Chairperson of Scientific Committee Dr P Krishna Prasanthi has told that such conferences local talent will get an opportunity to showcase their knowledge skills and participants will get the experiences of various specialists from outside.
There were several medico legal issues which are to be relooked to take stock of the latest developments and for this purpose, IG (Law and Order) Dr Ravi Sankar Ayyannar has been attending.
There are several schemes to take care of doctors during profession and their families if any doctor expires and all these will be discussed.

Above all, every doctor should put up 30 Continuing Medical Education (CME) credit hours with six hours for each year for every five years to renew their MBBS registration.
The participants in this conference will get six credit hours, she said.
IMA National President Dr Ravi Wankhedkar, Honorary Secretary General Dr RN Tandon, MP Dr N Siva Prasad, IMA AP State President Dr R Jayasekhar, IMA Tirupati President Dr IV Ramachandra Rao, Organising Secretary Dr AR Reddy, Organising Chairman Dr Cipai Subramanyam and others took part.