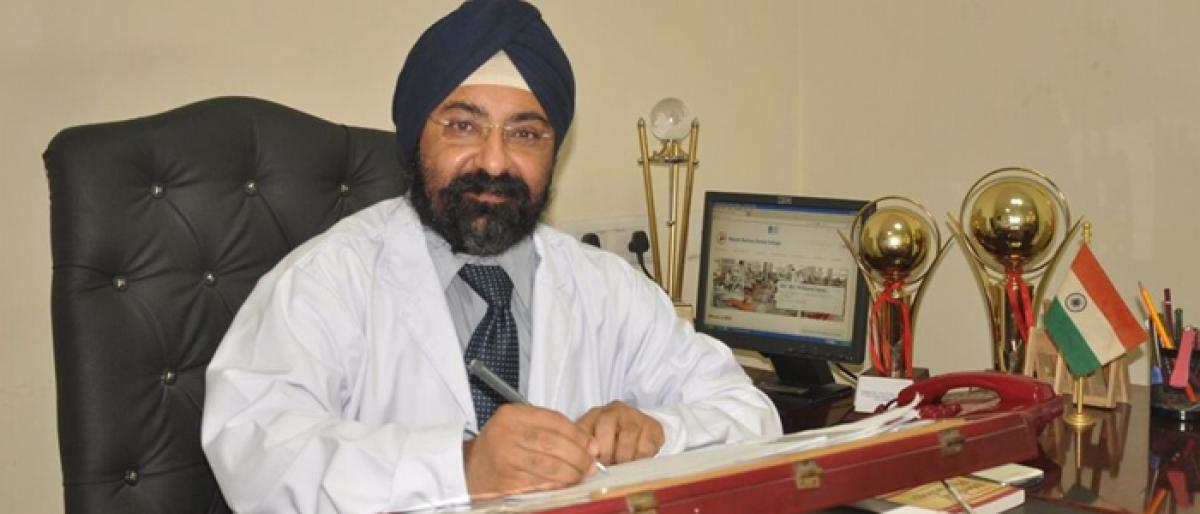 Highlights
Recent report by Global Burden of Disease 2015 has emphasized that oral health has not improved in the last 25 years Despite the advances in health, Oral conditions still presents as public health challenges across the Globe This can be further substantiated by the fact that untreated oral conditions has drastically increased from 25 billion in 1990 to 35 billion in 2015
Recent report by Global Burden of Disease- 2015 has emphasized that oral health has not improved in the last 25 years. Despite the advances in health, Oral conditions still presents as public health challenges across the Globe. This can be further substantiated by the fact that untreated oral conditions has drastically increased from 2.5 billion in 1990 to 3.5 billion in 2015.
India has been contributing to improvement in Global health with persistent efforts in the entire front and provides an efficient/effective/well trained workforce of Dental Professionals. India has a total of 309 dental colleges with more than 26,000 graduates obtaining a Dental degree each year. Along with this, Indian Dental Care service market is estimated to touch a double digit growth rate (20-30%) and reach up to US $2.2 billion by the year 2020.
Bachelor of Dental Surgery (BDS) is an undergraduate course in the field of dentistry. The prime focus is to train the professionals in identification of oral conditions (Accurate Diagnosis) and providing Primitive, Preventive and curative services efficiently. BDS is a full time course and spans over a period of 5 years (4 years academic training + 1 year of Mandatory Internship).
The detailed and patient oriented curriculum enables to a team of expert dental professionals who can further contribute to betterment of the country.
The dynamics of pursuing a career after a dental degree have changed significantly with plethora of new and exciting options available. In the present article, I have tried to sensitise the budding dental professionals to all the fields available in which they can pursue their careers.
Practice- If getting long term investments and stability is the focus, then setting up your practice is the best choice. Scope depends on the Practitioners and Locality, but Gestational period and return on Investments should be kept in mind. Remember, there might be lag in the beginning but there will be a hike when you get good at it.
Employed under Hospitals or Clinics- Working under a hospital (Govt. or Private as Junior Residents) or clinic (as Associate Dentist) requires low investments and risk. The dentist draws a fixed salary or percentage based incentives.
Masters Degree: If you want to pursue Master in Dental Surgery (MDS) to be specialist in one field, you can choose from multiple fields according to your interest and choice.
Master's in public Health (MPH)/ Diploma in Public Health- MPH has recently gained popularity among the dental professionals as a career option. There is huge demand of professionals who has public health oriented thinking and strives to eliminate the disease through lifestyle modification and primary prevention.
MPH degree is provided in most of the universities abroad and some colleges in India (like Tata Institute of Social Sciences, Mumbai, National Institute of Epidemiology, Chennai, Public Health Foundation of India (PHFI), Institute of Clinical Research India, Indian Institute of Public Health). After the degree, the MPH professionals are easily absorbed in National Surveys and National Projects or Pursue their public health career as public health Nurse, Epidemiologist etc.
i Master in Health Administration (MHA)/ MBA in Hospital Management – Hospital administration deals with management of hospitals as a business. A hospital administrator is one who hires staff, coordinates business functions/ business aspects and deals with external vendors. After completing the MHA or MBA in hospital management, a professional can pursue career as District Quality Managers in Government Organizations, NABH Coordinators in Medical/Dental Colleges.
Research Associates/ Junior Research Fellows/ Senior Research Fellows/ Scientist in Government Organisation or Projects in pharmacy companies (Pharmacovigilance) - Dental Professionals with an appetite in research can work as research associates or research fellows in short term Government Projects and further work in Dental Colleges in Public Health Dentistry Department.
Data Scientist in Big Data industry- The term Big Data refers to all the health data that is being generated across the globe at an unprecedented rate. This health data could be either structured or unstructured. There is huge potential as a career in Big data which can be pursued after BDS. Apache Hadoop, Machine Learning/ AI are some of the important courses in Big Data in which career can be made.
Others- Non-Governmental Organization (NGO) or International Agencies, Medical Coding Industry/ Medical Writing Industry, Jobs in Health Care Multi-National Companies (MNCs)
Dr Arundeep Singh - The writer is the Principal, Manav Rachna Dental College