Debate competition held on oil conservation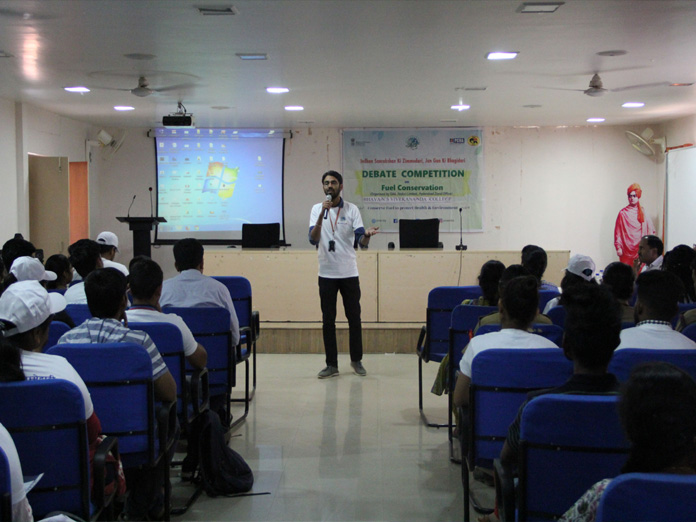 Highlights
GAIL India Ltd, as part of Oil and Gas Conservation Awareness Drive Saksham2019,organised a debate competition at Bhavans Vivekananda College, Sainikpuri, Secunderabad It was jointly organized by PCRA Petroleum Conservation Research Association and public sector oil and gas companies, under the aegis of Ministry of Petroleum and Natural Gas
​Hyderabad: GAIL (India) Ltd, as part of Oil and Gas Conservation Awareness Drive -Saksham-2019,organised a debate competition at Bhavan's Vivekananda College, Sainikpuri, Secunderabad .It was jointly organized by PCRA (Petroleum Conservation Research Association) and public sector oil and gas companies, under the aegis of Ministry of Petroleum and Natural Gas.
This competition was held on Tuesday at MBA Seminar Hall, BVC. The topic for the debate was 'Oil Conservation aids Economic growth'. There was a good participation of 54 participants, who spoke eloquently on the need for fuel conservation and feasible solutions.
Durgesh Singh ,DGM, Gas Marketing, GAIL (I)Ltd, was one of the Judges of the debate. Manasa G, (Manager, Gas Marketing,) and Narsimha Murthy( Senior Officer, Gas Marketing) were present as organisers from GAIL. Saksham aims to make oil conservation into a national movement .The programme aims to create awareness amongst the students about the importance of conserving petroleum products and finding new ways of emission reduction.