Rock formations near Peerancheruvu illegally being destroyed by private builders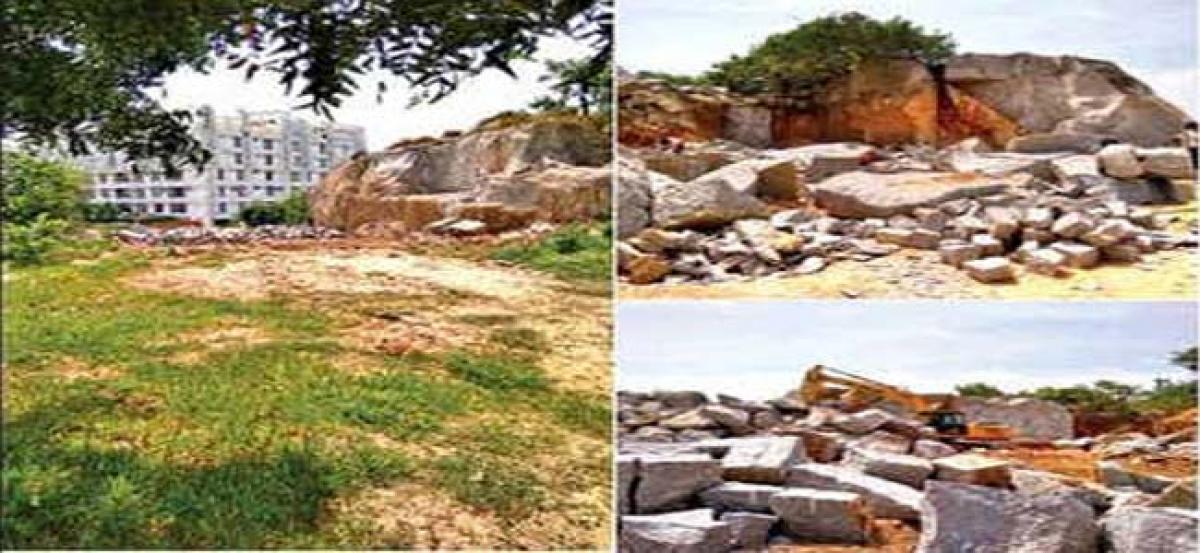 Highlights
The heritage formation of 2,500millionyearold rock formations near Peerancheruvu on Gandipet road, categorised by the Hyderabad Urban Development Authority HMDA are illegally being destroyed by some private builders
HYDERABAD: The heritage formation of 2,500-million-year-old rock formations near Peerancheruvu on Gandipet road, categorised by the Hyderabad Urban Development Authority (HMDA) are illegally being destroyed by some private builders.
As per the heritage activists, these huge boulders and rugged hills, which are a part of the Deccan Plateau, are now being broken down into high-rise buildings and no measures are being taken to protect them. "These rocks are a part of our history. They were found several million years ago when the earth's crust solidified. It is unfortunate that these rocks, which are an important part of our history, are being destroyed due to intense urbanisation," said Mohammed Habeebuddin, a heritage activist.
Giving these rocks a heritage tag, the government of undivided Andhra Pradesh had issued a GO number 68 in February 2009. "These huge rock formations are being destroyed and broken into small pieces to make space for residential colonies and high-rise buildings in the area. It is sad that this is happening despite these rock formations being notified as protected monuments," Habeebuddin added.
The activists further said that there is also Peeran Shah Dargah close to the lake which is located above one of the huge rock formations in that area. "It is because of the dargah that this rock is still intact, otherwise they would have destroyed that also in the name of development," an activist said.
The rock formations are actually protected under Regulation 13 of the Hyderabad Urban Development Authority Zoning Regulations 1981. Founder director of Greater Hyderabad Adventure Club, Diyanat Ali noticed the blasting at the rock site and registered a complaint with the Narsingi police. "Workers can be seen chipping away these rock formations and sometime also carry out blasts if they have to break huge boulders," one of the caretakers of Peeran Shah Dargah said.
According to the Society to Save Rocks, no categorised heritage structure or rock formations can be destroyed without the consent of the High Court.