Modi meets South African President Cyril Ramaphosa, discusses ways to boost bilateral ties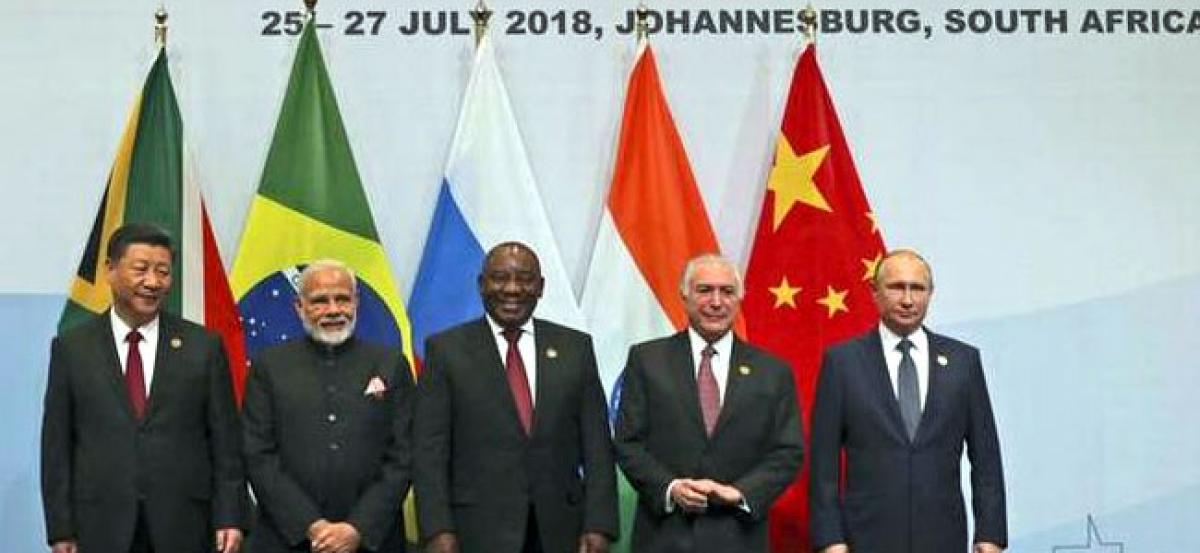 Highlights
Prime Minister Narendra Modi on Thursday met South African President Cyril Ramaphosa and the two leaders discussed ways to expand the bilateral ties in a number of sectors, including trade and investment, information technology and defence
Prime Minister Narendra Modi on Thursday met South African President Cyril Ramaphosa and the two leaders discussed ways to expand the bilateral ties in a number of sectors, including trade and investment, information technology and defence.
After the delegation-level talks between Mr. Modi and Mr. Ramaphosa, three memorandums of understandinds (MoUs) were signed on cooperation in exploration and use of outer space for peaceful purposes, the setting up of a Gandhi-Mandela Centre of specialisation for artisan skills, and agricultural research and education.
Mr. Modi, who arrived in Johannesburg on July 25, met Mr. Ramaphosa on the sidelines of the two-day BRICS (Brazil, Russia, India, China and South Africa summit whose theme this year is 'BRICS in Africa'.
"Kicking off a series of bilateral meetings on the sidelines of BRICS! PM Narendra Modi meets the host South African President Cyril Ramaphosa," External Affairs Ministry spokesperson Raveesh Kumar said in a tweet.
"Saluting the enduring legacy of Mahatma and Mandela! Prime Minister Narendra Modi and South African President Cyril Ramaphosa jointly released a stamp commemorating the two iconic personalities," he tweeted.
Strategic partnership
India and South Africa are celebrating 21 years of strategic partnership.
"India and South Africa are proud inheritors of legacies of Mahatma Gandhi and Nelson Mandela," Mr. Kumar said.
"Prime Minister Narendra Modi and President Cyril Ramaphosa discussed expansion of our relationship in trade and investment, agriculture and food processing, IT, defence and people-to-people contacts," he said.
Later, Foreign Secretary Vijay Gokhale said both the nations expressed satisfaction at the growth in trade and investment, besides improvement in the people-to-people relation.
"President Ramaphosa actually said India-South Africa relations may be new in terms of re-establishment of diplomatic relations but are in fact very deep-rooted in history. Now what it requires is nurturing, it needs to be watered time to time and such meetings help in that process," he said.
Mr. Gokhale said Mr. Modi entirely agreed with the South African leader on this, and noted a "very positive" trend on investments and trade.
Long-standing issues
The Prime Minister said Indian companies would respond positively to investing in South Africa, as he welcomed the India-South African business summit, held in April, for which the Commerce and Industries Minister had come here.
Mr. Modi also took up the issue of Indian business persons facing some obstacles in terms of general work permits and inter-company transfer permits in South Africa.
"These are long-standing issues that the Prime Minister took up," Mr. Gokhale said, adding that the South African President assured Mr. Modi that he would look into the matter.
The Prime Minister, he said, informed Mr. Ramaphosa that India had liberalised the visa regime "very greatly" for South Africans.
On trade, Mr. Modi said among the areas which the South African companies should be exploring in India were defence, food processing and health insurance, according to Mr. Gokhale.
During the "very productive, very good and very warm" meeting, Mr. Modi also mentioned about the visit of Indian Naval Ship INS Tarini with an all-female crew to South Africa.
"The President of South Africa in fact remarked that this [INS Tarini visit] had got very good publicity in the South African press and was seen as a sign of gender empowerment, women empowerment," the Foreign Secretary said.
Modi meets Putin
Mr. Modi on Thursday also held bilateral talks with Russian President Vladimir Putin on the sidelines of the BRICS summit and said the friendship between India and Russia was deep-rooted.
Mr. Modi was meeting Mr. Putin after their informal meeting in May in the Black Sea coastal city of Sochi in Russia in May.
The two leaders then met on the sidelines of the Shanghai Cooperation Organisation Summit in Qingdao, China, in June.
"Wide-ranging and productive talks with President Putin. India's friendship with Russia is deep-rooted and our countries will continue working together in multiple sectors. @KremlinRussia," Mr. Modi said in a tweet.
The two leaders had a comprehensive discussion on bilateral issues of mutual interest, especially in trade, investment, energy, defence and tourism, Mr. Raveesh Kumar said in a tweet.
The Modi-Putin meeting got over at midnight local time, he said.
During their meeting in Sochi in May, India and Russia elevated their strategic partnership to a "special privileged strategic partnership".
Anti-apartheid movement
India's relations with South Africa date back to several centuries. India was at the forefront of the international community in its support to the anti-apartheid movement.
This year also marks 25 years since the resumption of India's diplomatic relations with South Africa in 1993. This year also marks the 125th year of the Pietermaritzburg railway station 'incident' involving Gandhiji.
"2018 is a historical year for our relations, as it marks the commemoration of twenty-five years of diplomatic relations between South Africa and India," the South African Presidency tweeted.
The South African Indian-origin community numbers around 1.5 million and constitutes about three per cent of South Africa's total population.