Odisha: Bamboo pole turns into makeshift bridge for locals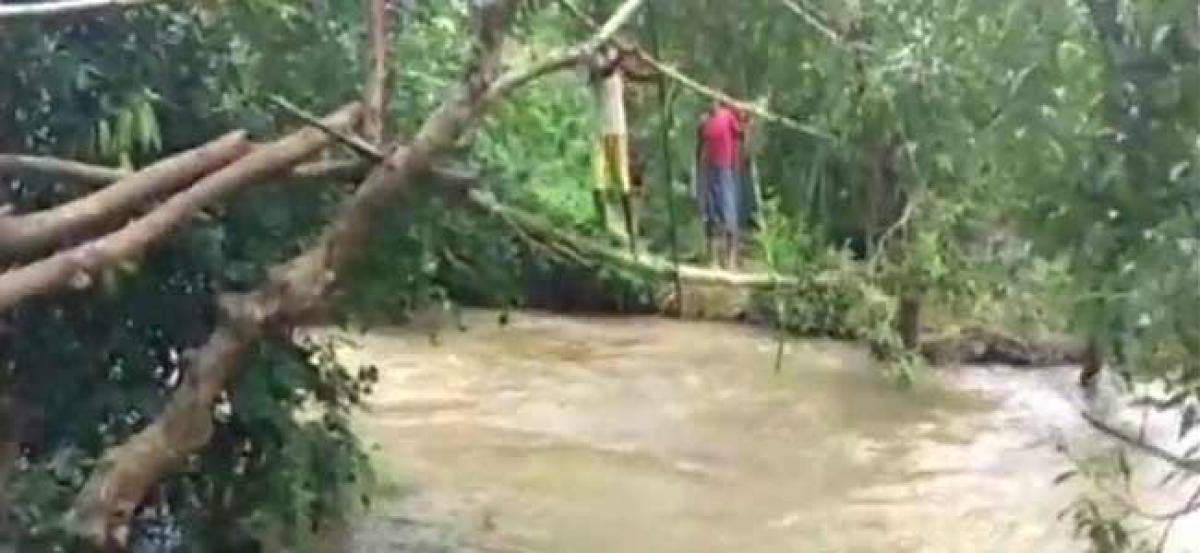 Highlights
For more than 3000 people in eight villages of Mayurbhanj district in Odisha, life hangs on a bamboo bridge the only means of connectivity between the villages and parts of the district
Bhubaneshwar (Odisha): For more than 3000 people in eight villages of Mayurbhanj district in Odisha, life hangs on a bamboo bridge - the only means of connectivity between the villages and parts of the district.
Located at a distance of 40 kilometers from the block headquarters, the bamboo pole has been the only mode of connectivity for seven years for these villagers, who are forced to regularly risk their lives during their commute. The impoverished condition has impelled many of the villagers to move out of their villages, leaving behind eight villages with a population of 3000 people.
Adults and children are forced to walk around 35 to 40 kilometers to reach Kanjia headquarters for their daily work. However, locals say that it is not the distance, but the route that bothers them.
"The distance is not a matter of concern but we are worried students have to cross Deo River 'nullah' to reach their schools. The 'nullah' remains dry for half the year. For the rest of the year, we tie bamboos to cross the nullah. It is a continuous process for the last seven years," a local said.
Natives further alleged that despite relentless complaints raised with the concerned authorities, there has been no improvement in the situation.
"We get rice from the Panchayat office at Dudhiani Panchayat. Repeatedly, we informed the Block Development Officer, Sub Collector and higher authorities of Karanjia Division of Mayurbhanj district but they turned a deaf ear. It's a shame on our government for not listening to our grievances," said another local.
The lack of connectivity is not only hampering the daily life of villagers, but also the availability of medical services.
"Due to the absence of connectivity, villagers are losing their lives without medical treatment. There is no proper arrangement for electricity yet. Our life is in a horrible condition," a local alleged.
Mayurbhanj Zilla Parishad Member Shimachal Purty reiterated that despite informing officials, no help has been received regarding the matter so far, and urged administrative officers to pay heed to the troubles faced by locals in the region.