West Bengal: Another bridge collapses, one injured in Siliguri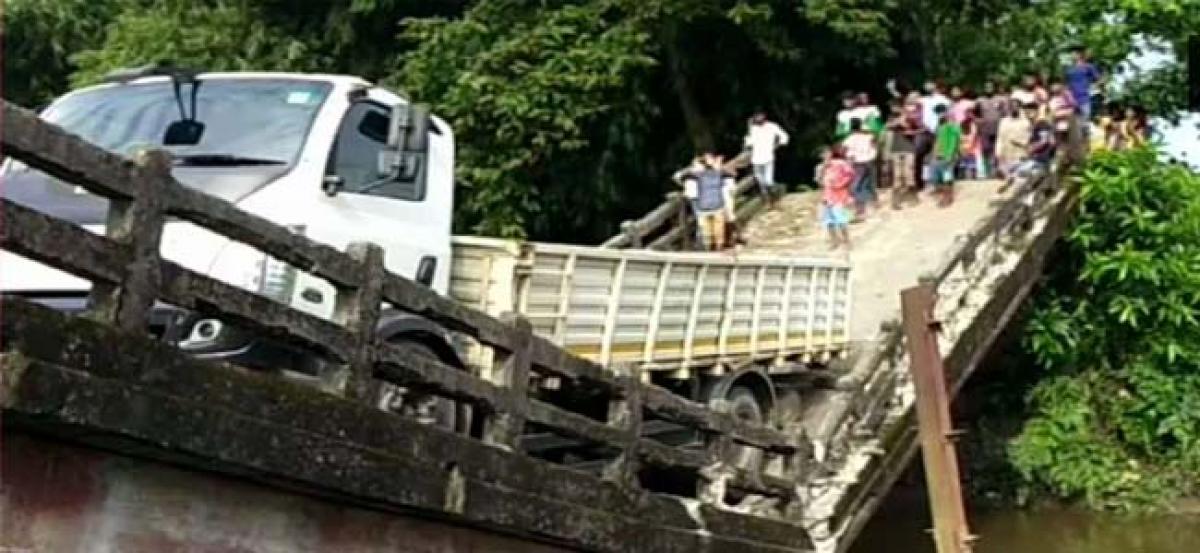 Highlights
An old bridge collapsed near Siliguri in north Bengal Friday, leaving a truck driver injured, a state minister said
An old bridge collapsed near Siliguri in north Bengal Friday, leaving a truck driver injured, a state minister said.
This is the second incident of bridge collapse in the state in three days. The Majerhat Bridge collapsed in South Kolkata on September 4, killing three persons and injuring 24. The middle portion of the structure near Siliguri collapsed on a canal below at around 9.30 am when a truck was crossing it and the vehicle is stuck in the broken portion of the bridge. The bridge connects Manganj and Phansidewa areas to Siliguri, a major city in north Bengal. Phansidewa is around 22 km from Siliguri.
A canal bridge in Siliguri's Phansidewa collapsed early morning today. More details awaited. #WestBengal pic.twitter.com/pb542LHdqj

— ANI (@ANI) September 7, 2018
"The movement of loaded trucks is banned on this bridge but many such vehicles bound for north-eastern states continue to take that bridge. This accident is a result of that," North Bengal Development Minister Rabindranath Ghosh said. He said this bridge was constructed long back and papers of the structure are not available. Repair work of the bridge will be undertaken after the PWD prepares a report, he said. Tourism Minister Gautam Deb said the bridge was maintained by the Siliguri Mahakuma Parishad (a sub-divisional body), run by the CPI(M)-led Left Front.
West Bengal: Goutam Deb, Minister of Tourism, visited the spot where a canal bridge in Siliguri's Phansidewa collapsed early morning today. (pic 1) Forensic team has also been called by Darjeeling police. pic.twitter.com/nDX03d27Mb

— ANI (@ANI) September 7, 2018
"I will report to Chief Minister Mamata Banerjee," Deb said. Engineers and state government officials have rushed to the spot. Senior CPI(M) leader of Darjeeling district Jibesh Sarkar accused the Trinamool Congress government and the district administration of ignoring repeated pleas to repair the bridge. "We had informed the state and the local administration that it needs to be repaired. But as it is a Left-run Mahakuma Parishad, funds were not released by the government," Sarkar told PTI.
An under-construction flyover also collapsed at Phansidewa on August 11, but there had been no casualty. The chief minister Thursday said nation-wide survey of bridges should be undertaken.She said there are 20 bridges in and around Kolkata which have crossed their expiry dates.