KCR has secret pact with BJP, MIM: Jeevan Reddy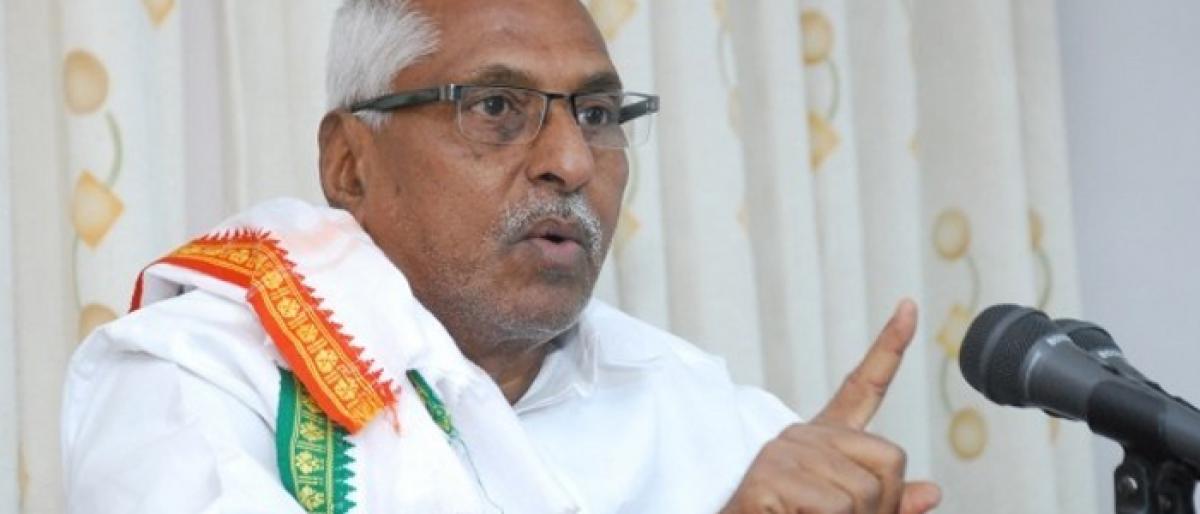 Highlights
Congress leader T Jeevan Reddy has alleged that caretaker Chief Minister K Chandrashekar Rao has a secret pact with the Bharatiya Janata Party and MIM Speaking to the media at Gandhi Bhavan here on Wednesday, Jeevan Reddy opined that KCR going for early elections before nine months of the scheduled time despite having full majority in the Assembly indicated his failure to rule the infant State
​Hyderabad: Congress leader T Jeevan Reddy has alleged that caretaker Chief Minister K Chandrashekar Rao has a secret pact with the Bharatiya Janata Party and MIM. Speaking to the media at Gandhi Bhavan here on Wednesday, Jeevan Reddy opined that KCR going for early elections before nine months of the scheduled time despite having full majority in the Assembly indicated his failure to rule the infant State.
He also asked KCR whether he has implemented any one scheme successfully in the last four years. He pointed out that KCR failed to give water to every household and wasted public money on Mission Bhagiratha scheme. The TRS government brought Mission Bhagiratha scheme for the sake of commissions though there was a chance to give water to every village by spending Rs 1,500 crore.
"How KCR can ask for votes without providing reservations to Muslims and tribals. While the farmers are suffering losses due to non-availability of fair prices to their crops, KCR is indulging in publicity. Giving Rs 600 crore in advance to LIC under the farmers insurance scheme is nothing but misusing public money," he pointed out.
Stating that the Chief Minister was behaving like a campaigner for LIC, Reddy added it was atrocious that the government was treating the Telangana State Public Service Commission as a revenue source without releasing job notifications. "People are observing all the publicity stunts of KCR. Soon, they will teach him a befitting lesson," he added.
Exuding confidence that Congress would win the elections, Jeevan Reddy said that the Congress party would examine the 9th schedule on providing reservations as Congress was in favour of reservations to Muslims and tribals.