Judge Subhash Reddy felicitated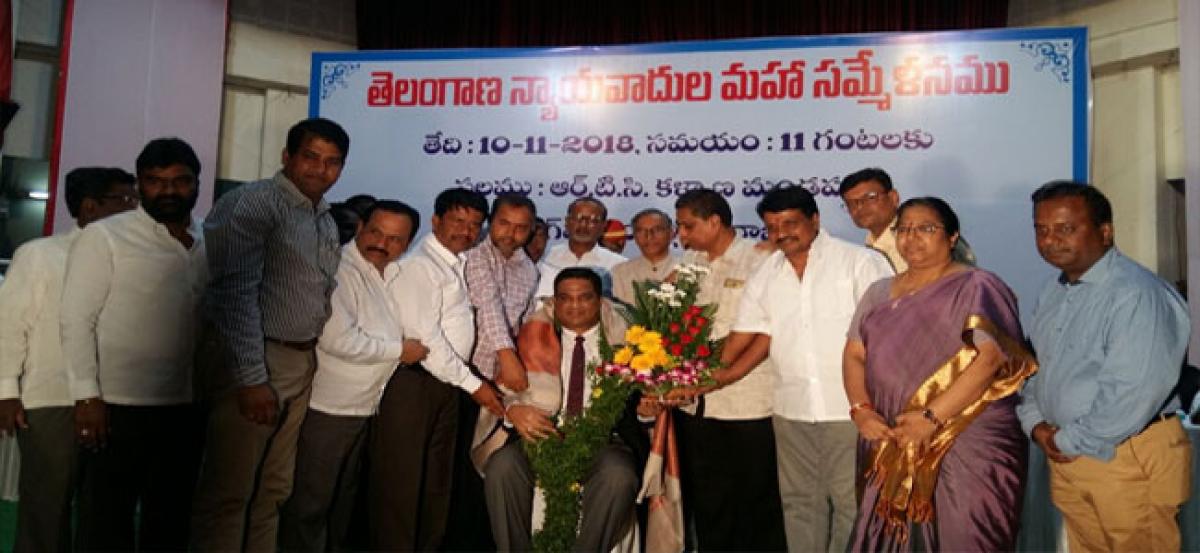 Highlights
R Subash Reddy, who was recently appointed as Supreme Court judge, was felicitated by Federation of Bar Association, Telangana, here on Saturday
Musheerabad: R Subash Reddy, who was recently appointed as Supreme Court judge, was felicitated by Federation of Bar Association, Telangana, here on Saturday. Former Supreme Court Justice Jeevan Reddy congratulated Subash Reddy on being appointed to Supreme Court at an early age and wished him a bright future. He said that Subash Reddy had earned accolades for his work as Gujarat High Court Chief Justice.
Former Lokayuktha chairman Subhashan Reddy said that it was a great honour for Subash Reddy to take blessings from former Supreme court judge Jeevan Reddy, as he is known for his historic rulings and is looked upon as an inspirational figure across the world in legal circles. Responding to the speeches of former judges, Subash Reddy said that although judges should be away from felicitations, he accepted to attend the felicitation ceremony to take blessings from the noted personalities like Jeevan Reddy and Subhashan Reddy. He promised that he would strive for keeping aloft honor of Telangana state in the nation.

Later, a Telangana advocates' get-together meeting was held on the same venue. Speaking on the occasion, several advocates demanded that the central government amend 41 A CRPC and allocate lands for advocates. They appealed to the governments to help them in forming advocate colonies in various cities. They also urged the government to provide health benefits on the lines of government employees. Prominent among those attended the meeting included BJP MLC Ramchander Rao, Telangana Jana Samithi president Prof Kodandaram, A Narsimha Reddy, the chairman of Bar Council of AP ad hoc committee, Telangana Federation of Bar Association president Ananth Reddy, working president Balaraj, vice-president G Madhusudhan Reddy and others.