16 dead in heavy rains, floods in Uttar Pradesh, Air Force on rescue efforts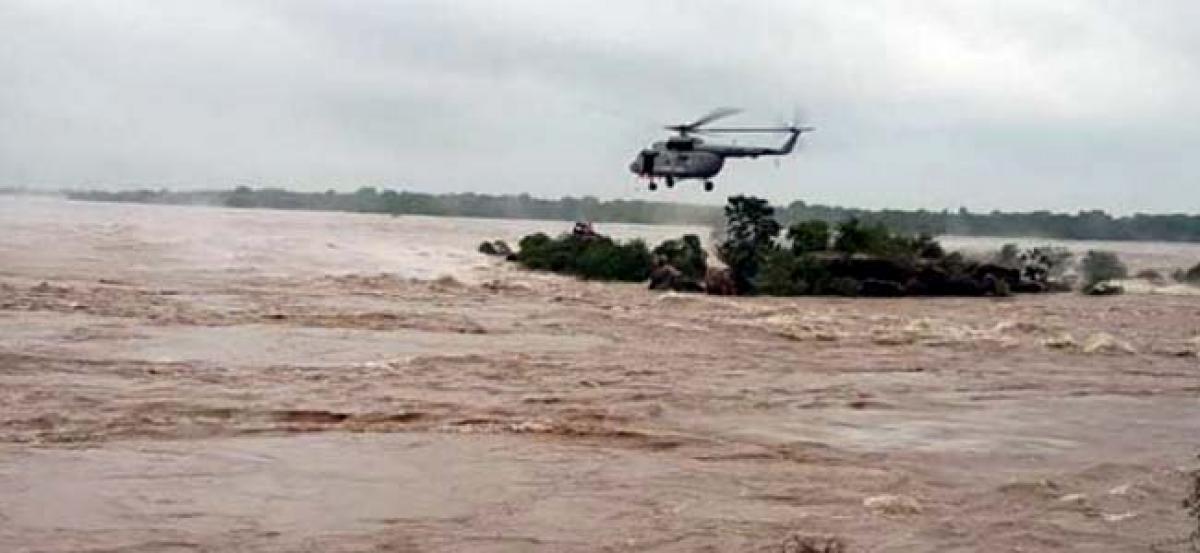 Highlights
At least 16 people died and 12 were injured in rainrelated incidents in Uttar Pradesh, where authorities had to take IAF help to airlift marooned villagers on Sunday, even as the Met office predicted more rains throughout the state over the next two days
Lucknow: At least 16 people died and 12 were injured in rain-related incidents in Uttar Pradesh, where authorities had to take IAF help to airlift marooned villagers on Sunday, even as the Met office predicted more rains throughout the state over the next two days.
The IAF personnel rescued 14 people stranded in Lalitpur and Jhansi districts due to heavy rainfall, drawing praise from Uttar Pradesh Chief Minister Yogi Adityanath. Shahjahanpur bore the maximum brunt of the weather onslaught on Saturday as six people died after being struck by lightning, while seven were injured.
A statement by the office of the UP Relief Commissioner said, "Six people lost their lives in Shahjahanpur, while three died in Sitapur district and two people each in Auraiyya and Amethi".
One person each died in Lakhimpur Kheri, Rae Bareli and Unnao, it said, adding, all deaths took place on Saturday. Eighteen animals were killed and 461 houses or huts were damaged, the statement added.
The meteorological department predicted widespread rainfall in eastern and western parts of the state on Monday and Tuesday. District Magistrate, Shahjahanpur, Amrit Tripathi said a few youngsters were grazing cattle in Shamsherpur village on Saturday, when a sudden downpour forced them to take shelter under a tree.
"Mohit (24), Bablu (5), Anmol (10) and Dablu (11) died when they were struck by lightning, while three were seriously injured," he said. Vandana (11) of Nabipur village and Ashok (42) of Sikandarpur village in the district, also lost their lives when lightning struck them, Tripathi said.
"Sub-Divisional Magistrate Ramji Mishra was sent to the spot. Financial assistance of Rs 4 lakh is being made available to kin of the deceased," he said.
The bodies were sent for post-mortem and the injured have been admitted to Shahjahanpur district hospital, police said.
Six people were stranded in a village of Lalitpur district Sunday morning following heavy rains.
In Garautha tehsil of Jhansi district, eight fishermen were stranded near Erech Dam on the Betwa river after a sudden rise in water level, they said.
#SavingLives : Today, 01xMi17 V5 helicopter was launched for Lalitpur and 01xALH was launched for Jhansi to rescue stranded people due to floods. Both the Operations completed successfully & 6 person were rescued from Lalitpur & 8 person were rescued to safety at Jhansi. pic.twitter.com/SzT9zyLNNW

— Indian Air Force (@IAF_MCC) September 2, 2018
Uttar Pradesh Relief Commissioner Sanjay Kumar said, "All six people were successfully rescued in Lalitpur district. The IAF team did a fantastic job."
"The district magistrate of Jhansi has confirmed that all eight fishermen have been successfully rescued by an IAF team," he said.
UP Chief Minister Adityanath praised the rescue operation carried out by IAF personnel in Lalitpur district. According to an official statement, Adityanath also extended Janmasthami greetings to the officials and jawans.